Cameron wants a banking cost-to-income ratio of about 50 per cent. But higher funding costs and intense competition in the mortgage market pushed this ratio to 56.1 per cent in the half year from 54.9 per cent, where Cameron expects it will remain for the rest of the financial year.
The net interest margin fell to 1.79 per cent from 1.86 per cent for the same reasons, and sits just below Suncorp's 1.8 per cent-to-1.9 per cent target. Given conditions in the banking sector, the company acknowledged it may be a battle to get back into that band by June 30.
Cameron was also pressed by analysts to reaffirm his overall return on equity guidance for the full year of 10 per cent; stripping out the impact of the natural disasters, return on equity (ROE) sat at 9.7 per cent in the first half of the financial year.
His big headache appears to be expenses. The royal commission has cruelled the strong progress that Suncorp has made so far this year on its grand cost-cutting plan, known internally as the business improvement program (BIP).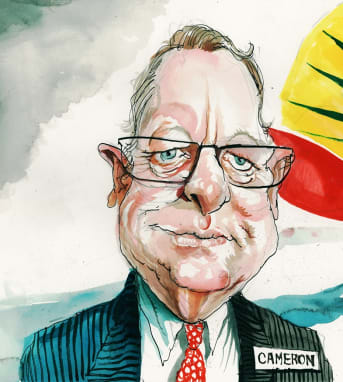 The three-year plan was supposed to provide a net benefit of $195 million this financial year, but Cameron will smash this, and is now predicting he will get to $225 million.
The program's final target of $329 million in net benefits by the end of the 2020 financial year hasn't changed.
But the BIP will now absorb $30 million worth of costs that Suncorp will have to neutralise following the sale of its life insurance business, scheduled for the end of this month.
Suncorp appears to be making pretty solid process on pushing customers towards digital channels as part of the BIP; the group has sent more than 1.5 million fewer mail packs in the year to date, and taken 340,000 less calls in its contact centres.
But the bad news is that Cameron, or his team, appears to have badly undercooked the forecast for regulatory costs, stemming mainly from the royal commission and its recommendations.
Suncorp had expected to spend $90 million on these specific regulatory projects in financial 2019, but it now forecasts this will jump to $140 million.
Regulatory costs are likely to extend into 2020, although Cameron didn't provide specific guidance on next year.
This Hayne financial pain may put some pressure on Suncorp's full-year target for $2.7 billion in operating expenses, although it should be noted that with first-half costs coming in at $1.3 billion, the target is achievable.
That analysts seemed so keen to press Cameron on his guidance demonstrates the doubts that the market holds about the final FY19 numbers.
The gap between the company's expectations for underlying cash earnings – updated at $1.38 billion on Thursday – and the market consensus forecast, which sits at $1.01 billion, remains substantial.
And with the royal commission causing obvious cost pains, investors have even more to chew over.
James Thomson
j.thomson@afr.com