The $319 Canvas starter kit we reviewed comprises nine LED panels of 15cm by 15cm, each capable of displaying millions of colours. You clip them to each other and stick them to your wall using double-sided tape, although we gather screw-mounting kits are coming soon.
You then attach the installation to the power using cord that's a good deal more discrete than that for the Nanoleaf Light Panels we reviewed previously but is still likely to be a bit of an eyesore without proper planning and/or drilling.
Lengthy set-up
You also have to pair the lights via Bluetooth to a Nanoleaf app on your phone, which in turn attaches them to your home Wi-Fi network. The whole process took us about an hour, although it can take much longer if you get experimental with the layout of the panels.
The panels don't just join together to form bigger squares or rectangles, you see. Each has a number of ways it can be clipped to its neighbour – above or below, left or right, aligned or at an offset. This means they can be formed into any number of shapes, including big, chunky illustrations for which you might even need to design your own colour scenes in the Nanoleaf app. Really, you could spend days setting this up if you want.
Or you could just do what we did and join them all together in a square or a rectangle and use them as a huge light. The Canvas has modes such as "warm white", "reading light" and "daylight" that turns all the panels the same colour, giving you a big, diffused light source that's not bad to work by.
Our nine-panel setup was not quite as bright a light source as we were hoping for, though, so you'll need to buy more panels (at about $25 each) or, you know, do the old-fashioned thing and buy a $2 light globe.
But it's not really about providing light to work by. The Canvas is all about pretty colour "scenes" such as "Forest", "Inner Peace" or "Northern Lights", with harmonious colours that drift around from panel to panel to mesmerise you potentially for hours.
With the original Nanoleaf Light Panels, you could buy a microphone and clip it to one of the panels to move the colours and the brightness in time with any music playing in the room. (Or, indeed, with any noise. Having the lighting suddenly come on and bounce around in tune with your voice whenever you speak can be disconcerting.)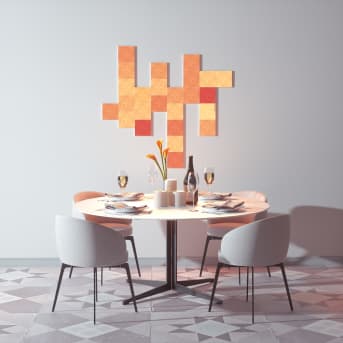 We're pleased to say the microphone now comes built into the Canvas system, so you don't have to attach a clunky add-on.
We're also pleased to say it comes with a fairly decent set of built-in controls, so you don't have to pick up your phone or use your voice.
There's now a central control panel with buttons for controlling most of the things you're going to be doing day to day, meaning you only need the phone app to set-up related things like downloading lighting scenes uploaded to Nanoleaf's scene store or designing your own.
On top of that, all the panels are touch sensitive, allowing you to swipe left to right across the installation to, say, move to the next colour scene, right to left to move to the previous scene, and up and down for brightness. Either there's a trick to the swiping we never mastered or it's not quite as reliable as it should be but a lot of our swiping didn't seem to do anything. After a few days we gave up on it and just used the buttons on the central panel.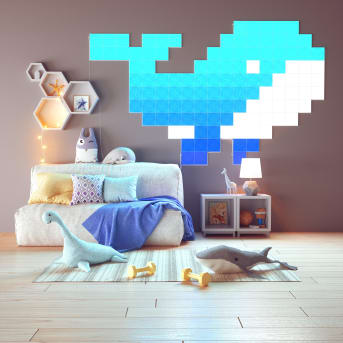 At a party, though, intoxicated revellers will just love swiping the panels. And, if they're intoxicated enough, they won't even notice if it doesn't do anything.
But that's not the least reliable thing about the Canvas. Not by a long shot.
It's when you hook it up to Alexa or Google Assistant so you can control it with your voice ("Alexa, turn on the Nanoleaf") and integrate it with your other lights ("Hey Google, turn off the living room lights") that things start to get hairy.
A few glitches
In our experience, all lighting systems from all manufacturers fall off the Google and Amazon voice control platforms from time to time – but Nanoleaf seems to do it more often than most. In our week of reviewing the Canvas system, we had to re-authorise Google to control it more than once.
The good news, though, is that Nanoleaf is ahead of the curve when it comes to understanding that Google Assistant and co are slow to react at best and unreliable at worst. That's why it has actual buttons on the Canvas and an optional Bluetooth dodecahedron – so you don't have to hunt around for your phone to turn on your lights.
It's genius! Whatever will they think of next? Switches built right into the wall that are always in exactly the same place so that you can always find them, even when it's pitch black and you're utterly hammered after a long night of partying in front of your Canvas lights?
NANOLEAF CANVAS
Price $319 for a nine-panel starter kit
Likes Flexible design, vibrant colours
Dislikes Expensive, can be unreliable when used with a smart home system