On Sunday, Fitzy offered his readers the exclusive revelation that he'd seen Tony Abbott in a Mosman café (fitting place for a Jesuit schooled in the particular dimensions of hell), an historic summit he felt compelled to share with his social media adorers well before bothering with his paying readers. "In my post I noted I had tried once again to talk some political sense into him, but failed." Again, our column is as tough on Abbott as anyone. But even setting aside FitzSimons' incapacity to question the news value of what he ate for breakfast, he then inflicts his untutored "political sense" upon a former Prime Minister. Marvel at the bashfulness of Kissinger and the dullard wisdom of Enya. For its soaring amour-propre, this rivalled The Sun-Herald's nuclear-hyping of Abbott's Warringah opponent Zali Steggall. "I have been tangentially involved with one of the well-organised groups backing her," went the pirate impersonator's loaded confession, "having declined their invitation to stand myself". Note the moment unbearable's outer limits (as hitherto understood) were cruelly rewritten.
Back to yesterday and Fitzy then dedicated more than 300 words to plugging his wife's pre-recorded interview that very evening. "The interview will screen 6.30 tonight on The Sunday Project on Channel Ten." This hubris belongs in a lab.
To be fair, the spectrum of journalism – and what passes for it – remains as nebulous today as it does subjective, this column standing as living proof. But consider fully the FitzSimons oeuvre: a storied pisshead who gave up drinking only to segue it into a blokey rip-off of Sarah Wilson's I Quit Sugar and now argues removing alcohol from rugby league players is the panacea for their proneness to sexual and violent crimes against women, rape being the aberrant reluctance of us drinkers without salary caps; he trousers cash to front TV ads for Uber Eats, his megaphone unceasingly an impenitent billboard for his and Lisa Wilkinson's manifold interests, their hunger for adulation second only to theirs for full pockets; busted plagiarising his red bandanna shtick from Toulon rugby coach Daniel Herrero, his breezy non-denial being that "I've decided I like too much red wine, sneaking packets of salt and vinegar chips and wearing ludicrous red bandannas in public", then giving up the sociologically explicable two of those three dependencies; the Australian Republican Movement's chair who couldn't resist the vainglory of the Order of Australia's siren call, his (and his wife's) low-tier honour a gift of the Queen herself; his whole tired output a surreal collation of other people's tweets and Reader's Digest jokes.
Fran Lebowitz remarked in 2016 that Donald Trump is "a poor person's idea of a rich person." In this spirit, Fitzy is a stupid person's idea of a smart person. As in, he'd be absolutely perfect in The Sunday Telegraph.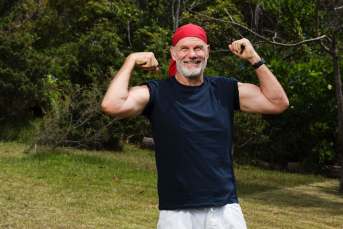 If our sibling masthead is serious about reversing the editorial dumb-down its veering advertising model necessitated several years ago, it might reconsider offering Sydney's high spenders a mercantile mouth-breather in a party costume. "He's the only reason to buy The Sun-Herald," his defenders hold. He's also the reason many refuse to. His predecessor on its back page? The mellifluous and canny Annabel Crabb.
And it's only eight years since Fitzy's colleague Kate McClymont, the embodiment of a newspaper's civic mission, tirelessly pursued and established the astonishing corruption of the state Labor government he is now barracking to return over a f—king football ground. McClymont's campaign was built upon a back-breaking imposition of our profession called "research". Conducted herself, not deferred to the help, nor dictated in the third person. Actual journalism.